BBQ Chicken Pizza
Indulge in the savory and tangy flavors of our BBQ Chicken Pizza creation. This recipe brings together the best of both worlds – the boldness of barbecue and the comfort of pizza. Whether you make it for a crowd or enjoy it with your family, this pizza is a crowd-pleaser.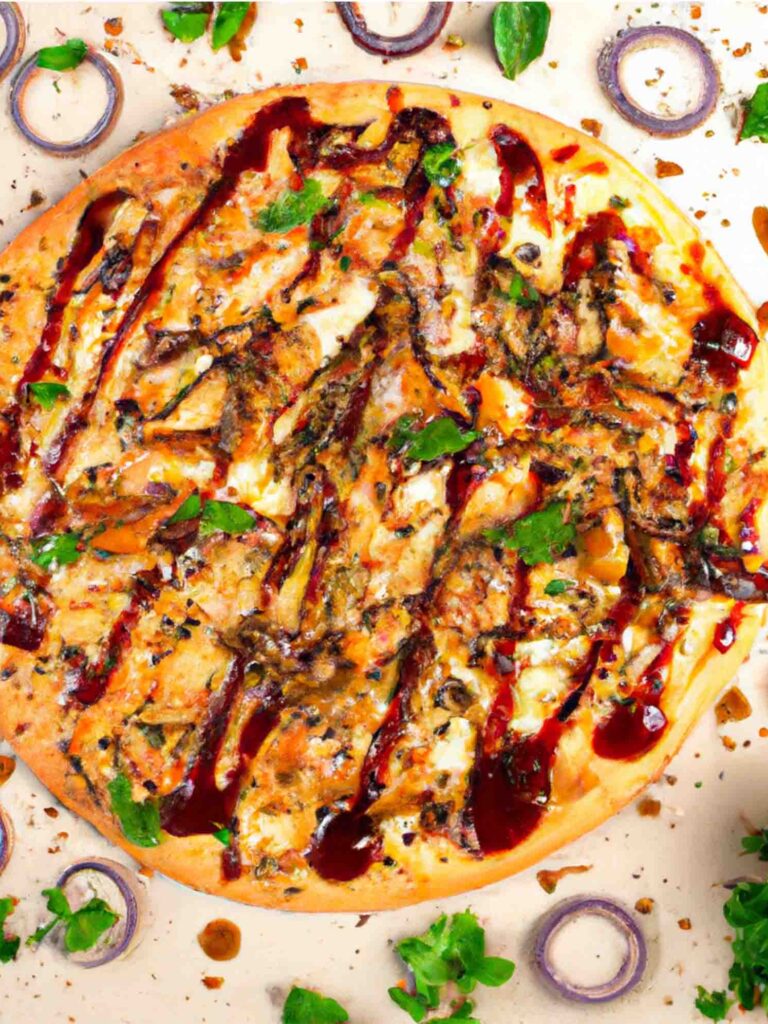 Pizza Dough
For the BBQ Chicken Topping
Instructions
BBQ Chicken Topping Preparation
Preheat your grill or stovetop grill pan over medium-high heat.

Season the chicken breast with salt and black pepper.

Grill the chicken for about 6-8 minutes per side or until cooked through.

Brush both sides of the chicken with barbecue sauce during the last few minutes of grilling.

Remove the chicken from the grill and let it rest for a few minutes before slicing it into thin strips.
Pizza Preparation
Preheat your oven to its highest temperature (usually around 500°F or as high as it will go). Place a pizza stone or baking sheet in the oven while it preheats.

Roll out the pizza dough on a lightly floured surface into a 12-inch circle.

Remove the hot pizza stone or baking sheet from the oven and sprinkle it with cornmeal to prevent sticking.

Carefully transfer the rolled-out pizza dough to the hot stone or sheet.

Spread a thin layer of barbecue sauce over the dough as the base.

Sprinkle half of the shredded mozzarella cheese over the sauce.

Arrange the grilled chicken strips and red onion slices evenly over the cheese.

Sprinkle the remaining mozzarella cheese over the top.

Transfer the pizza (on the stone or sheet) back into the oven and bake for about 12-15 minutes or until the crust is golden brown and the cheese is bubbling.

Remove the pizza from the oven, sprinkle with chopped cilantro, slice, and serve hot.
Note
Serve the BBQ Chicken Pizza hot and fresh, straight from the oven. It's a delightful combination of barbecue goodness and pizza comfort that pairs well with a side salad or coleslaw.
BBQ Chicken Pizza, Barbecue Flavor, Pizza Perfection