Chicken & Pork Fried Rice
Delight in the flavors of a well-executed stir-fry with our Chicken and Pork Fried Rice creation. This recipe offers a harmonious blend of protein, vegetables, and aromatic seasonings that come together in a wok to create a symphony of taste and texture. Ideal for weeknight dinners or a quick homemade takeout alternative, this dish is a true crowd-pleaser.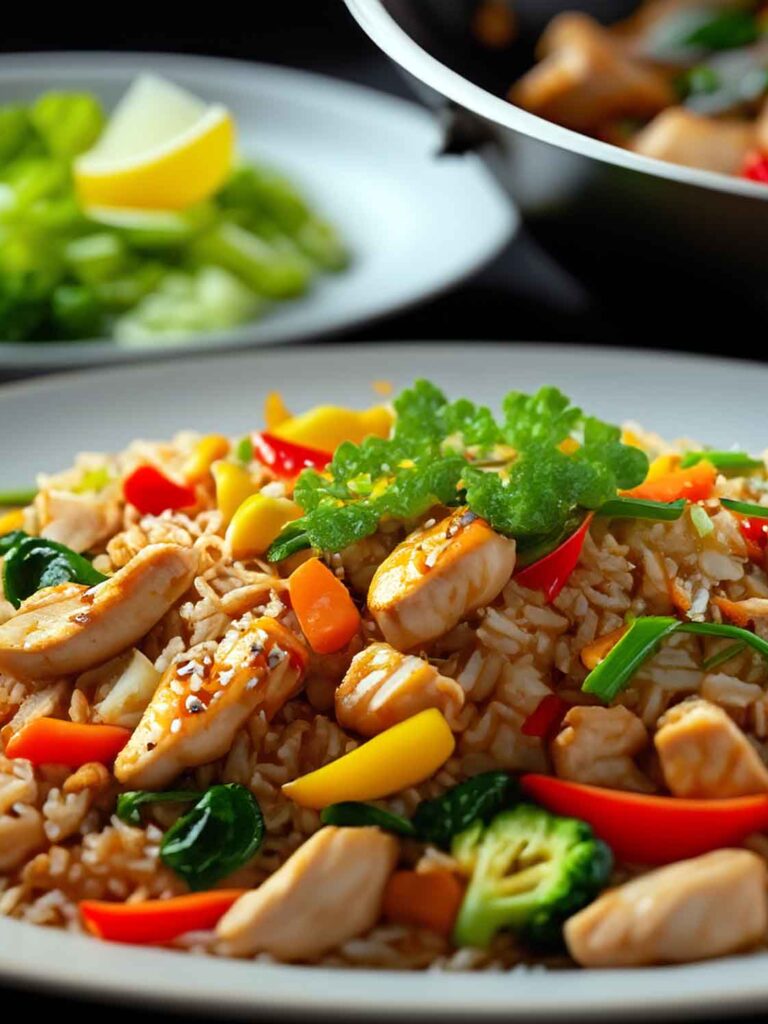 If Not Using "Noh Chinese Fried Rice Seasoning", Make Your Own!
Instructions
Prepare The Rice
Ensure the cooked rice is cooled and not too sticky. If using freshly cooked rice, spread it on a baking sheet to cool and dry slightly.
Stir-Fry the Chicken and Pork
In a wok or large skillet, heat 1 tablespoon of vegetable oil over high heat.

Add the thinly sliced chicken and diced pork. Season with salt and pepper. Stir-fry until they are cooked through and have a slight sear, then remove them from the wok and set aside.
Scramble the Eggs
In the same wok, add another tablespoon of vegetable oil. Pour in the beaten eggs and scramble them until just cooked. Remove and set aside.
Stir-Fry the Vegetables
Heat the remaining vegetable oil in the wok.

Add minced garlic and diced bell peppers. Stir-fry for 2-3 minutes until they start to soften.

Add the thawed peas and carrots. Stir-fry for an additional 2 minutes.
Combine and Season
Return the cooked chicken, pork, and scrambled eggs to the wok.

Add the cooked rice and stir-fry everything together.

Pour in the soy sauce, oyster sauce, and sesame oil. Continue to stir-fry for another 2-3 minutes until the rice is heated through and evenly coated with the sauces.
Serve
Transfer the Chicken and Pork Fried Rice to serving plates.

Garnish with sliced green onions and sesame seeds, if desired.

Serve hot and enjoy this delectable Asian-inspired stir-fry!
Note
Pair this Chicken and Pork Fried Rice with a side of steamed broccoli or a simple cucumber salad to complete your Asian-inspired meal.
Chicken and Pork Fried Rice, Asian Stir-Fry, Flavorful Fusion